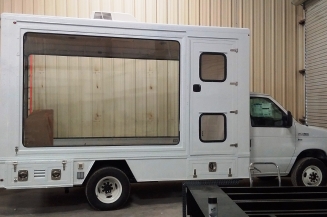 Mobile billboard advertising has been a proven method to getting your local business in the spotlight.  Mobile billboard trucks across the state of Texas have been getting advertising campaigns in front of the audiences that need to see them. This is a booming form of modern advertising; no one can dispute that claim.
However, in order to remain a relevant source for out-of-the-box advertising, the team at Texas Mobile Advertising understands that we have to constantly evolve in order to meet the needs of our clients. We are constantly on the move to improve our business and that is why we are pleased to give you a tour of our newest glass-walled truck that your business can use for mobile billboard advertising.
Texas Mobile Advertising Announces the Completion of the New 14' Glass-Walled Truck
Our company has been in the business of getting local Texas businesses on wheels and advertising across their designated cities. From bicycle billboards to billboard trucks, we have been able to create advertising campaigns that deliver in looks and results. Now, with our new glass-walled truck, we have set the bar higher for ourselves and the imaginations of the local businesses that decide to use our latest unit.
Here are the details:
With a 14' glass walled display area, this new mobile billboard vehicle offers 17% more square footage than industry standard 12' trucks. This means that our clients now have more space to work with and get creative.
Side door with steps for easy access in, and out of the vehicle.
The back door is on hydraulic lifts that opens as high as parallel to the roof line and acts as an awning (Yes, this includes the steps).
Generator on board
RV style HVAC in the roof
Brand new Ford cutaway chassis
Texas Mobile Advertising currently has three 12' glass trucks, the new 14' glass truck, two 18' glass trucks and four billboard trucks. We don't plan on stopping there. We know that the advertising business is everchanging and we are ready to continue stepping up our game for the clients that need to get the word out on their business.
Get Creative with Our Newest Glass-Walled Truck!
By working with Texas Mobile Advertising and our latest glass-walled truck for your advertising campaign, you are literally opening the door to being able to have complete creative control of a project that will not break your marketing budget.
Having Texas Mobile Advertising on your side gives you the guidance and extra spark to make your next advertising campaign not just a mobile billboard advertisement, but a work of marketing art.
Texas Mobile Advertising Moves Our Clients into Success
If you are a local business that is eager to break into your market without breaking your advertising budget, then Texas Mobile Advertising is the business to help boost your profits. Through mobile billboard advertising we will help to ensure that your message is seen at the right place by the right people. Give us a call today to find out how to get your business on the side of one of our trucks.
Back to Blog