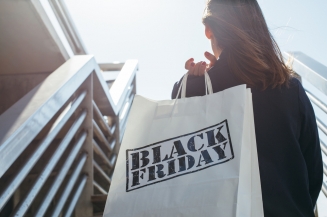 After Thanksgiving comes and goes, and everyone has begun to recover from their food coma, the next big, American holiday rolls around. No, we are not talking about the man in red jumping down a chimney. The next holiday falls between Thanksgiving and Christmas, in the tumultuous day that is referred to as Black Friday.
On Black Friday crowds of people line up for hours outside of their favorite stores with the high hopes of grabbing the hottest items on their Christmas lists. As a business owner who may be interested in mobile billboard advertising, this is the perfect chance for your business to sweep in and get your message across. Here are some of our top reasons why you should have a mobile billboard advertising campaign prepared well in advance for this upcoming Black Friday.
1. You Are Where the Party Is!
With mobile billboard advertising, you don't have to worry about having a radio or television advertisement pop on at the perfect time. People will be waiting outside of stores for hours. Take advantage of this time to drive by the crowds slowly. They have nothing else to do but wait, so why not give them a glance at your colorful mobile billboard truck that could give them an idea for their next big purchase.
Mobile billboard trucks are a perfect way to get a message in front of the audience that needs to see it. So, plan your route out wisely and make sure that the advertisement you are promoting is going to be useful to your overall campaign and where you are promoting it.
2. Get the Word Out On Your Store's Deals
Just because Black Friday ends when the sun rises for most people, doesn't mean that loads of people won't be out shopping throughout the rest of the weekend and into the Christmas holiday. By sending out your mobile billboard trucks during the Black Friday rush, you can bring loads of customers into your doors during the upcoming shopping season.
Make sure that you work with your professional Texas advertising campaign managers to ensure that the message you are putting across is one that remains evergreen throughout the holiday season. Take advantage of the crowds that larger stores bring in and let consumers know that your brand also has the flare that they are looking for this Christmas.
3. Save on Advertising for More Merchandise
By utilizing a mobile billboard advertising campaign, you are essentially saving advertising money that can be used for other areas of your business. If your mobile advertising campaign is one that catches the eye, you may be bringing in quite a few customers. We recommend using these excess funds to order more stock for your shop to ensure that every customer is satisfied.
Texas Mobile Advertising Is Ready to Master the Rush for Your Business
Don't let the rush of Black Friday be daunting to your local business. It is proven that the modern customer enjoys to shop at local businesses, you just need to find the right way to get your message across. With Texas Mobile Advertising, you have an entire fleet of trucks, bikes, and more at your disposal to get your unique message to the masses. Give us a call today to find out how to get started on your next mobile billboard advertising campaign.
Back to Blog